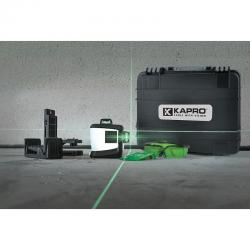 Kapro 3 Beam 360 Degree LaserItem No.

KAP883G
$

0.00

Each
The 883G automatically determines the horizontal and vertical planes. The laser projects one horizontal 360° and 2 orthogonal 360° vertical beams, that intersect on 4 walls, floor and ceiling. It is ideal for accurately laying out right angles for flooring, drywall installation and deck construction; leveling slopes (manual mode); framing and aligning windows and doors.
Green laser with three 360° beams including: horizontal, side vertical, forward vertical
Indoor laser range: 65 ft. (20m), Outdoor range (with detector): 230 ft. (70m)
Accuracy: 1/8 in. at 50 ft. (0.2mm/m)
Manual mode for tilted marking
Includes beamfinder glasses, laser target, lithium ion battery and battery charger, multifunctional magnetic mount, and hard carry case
The Kapro 883G 3D laser features a green beam. Green beams are significantly brighter and easier for the human eye to detect than red lasers, especially in indoor conditions.
| | | | |
| --- | --- | --- | --- |
| Main Category: | Surveying Equipment | Sub Category: | Industrial Lasers |
| Mfr / Trade Name: | Kapro | | |